AX AI Boosted Quality Assurance Framework
How to increase the precision rate when it comes to defect detection? How to better deal with requests for last-minute testing? How to make your customer happier by ensuring high quality products?
The AX AI Boosted Quality Assurance Framework developed jointly by AXULUS and RELIMETRICS enables you to take Quality Assurance to the next level with Artificial Intelligence based automation. Configure and roll-out QA solutions with digital workflows and integrate them with any shop floor system.
How to implement a QA process with:
Guaranteed defect detection accuracy
Highest availability and QA process efficiency
Minimum investments into additional hardware and software
Optimized production throughput at minimum scrap and rework
Minimum warranty claims and required refunds
Highest product quality to drive customer loyalty and brand reputation
RELIMETRICS and AXULUS partner to enable customers to substantially benefit from latest AI based Quality Assurance methodologies and tools. It generates significant savings in operations by scaling ready to use QA solution template to relevant production processes with a few clicks.  
As the leading no-code industrial grade framework for AI based Quality Assurance, the RELIMETRICS solutions scale easily across production and inspection sites.
Based on the AXULUS Digitalization Platform ready to use templates are provided, that can be customized and rolled-out into our existing production and QA processes with a few clicks.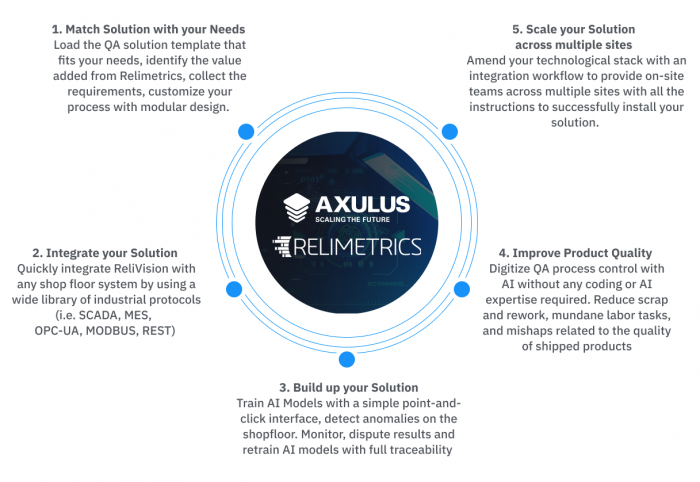 Reduce costs associated with:
EASY SOLUTION SCALING AND POSITIVE BUSINESS CASE